Meet the future of comfort and control. Wi-Fi thermostats allow you to stay comfortably connected to your home, no matter where your day happens to take you. Below are some Wi-Fi options in the industry that you may want to consider for your home.
Wi-Fi 9000: Color Touchscreen Thermostat
This thermostat allows for tool-free wiring and a manual-free installation and setup. It has an on-screen Wi-Fi connection process so that no separate device is needed. It also has a sleek, contemporary design with customizable display color.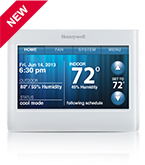 Wi-Fi VisionPRO: Touchscreen Thermostat
This model is intuitive and has single-screen programming for easy setup. Its equipment check / change reminders help generate repeat business. It is also duel-fuel capable with a wired outdoor sensor.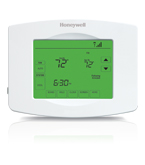 Wi-Fi FocusPRO: Thermostat
This model installs with the ease of all the standard FocusPRO models. It has simple connectivity with a reliable performance that you can trust. Its programmable settings also help lower your energy costs.