Furnace Repair Service Williamsburg VA
Nelson's Heating and Cooling provides quality and dependable heating & furnace repair. Founded in 2004, we provide Williamsburg & Newport News residents with heating & cooling services including: furnace repair, heating repair & ac repair. Our full list of our locations that we serve can be found on the right sidebar.
HVAC Certified
We are HVAC certified, and our furnace repair, installation, and service teams offer a safe, efficient, and knowledgeable heating and cooling service to all of our customers. We pride ourselves on "safety first" by conducting weekly safety meetings with all of our employees. By staying up to date with the HVAC regulations, we ensure that your system will get the best treatment. Our service is the best around and we were voted Best Of Williamsburg for HVAC repair in 2014! What are you waiting for? Call today to schedule your heating or furnace repair appointment.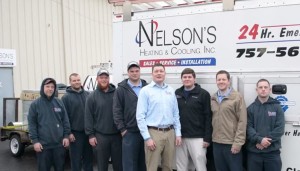 Have you had the pleasure to meet the staff here at Nelson's? If not, check out our profiles to learn about our team. Our blog provides helpful tips on HVAC, ac repair, furnace repair, heating and cooling and also energy efficiency tips that will keep your energy costs down. The AC unit consumes the most energy in your home, why not protect it? We welcome any questions and will gladly answer them. We have furnace repair technicians on call 24/7 should an emergency occur during nonworking hours. If you have any additional questions, please fill out the form below or give us a call at (757) 566-3052. We are available all hours of the day! We look forward to assisting you!